Meet Morgan Ryan, The Olinger Group's new Marketing Manager.
What drew you to Marketing?
I laugh when I think about that because my path was circuitous. I started college as a psychology major, then switched to teaching. I liked them both, but I wasn't passionate about either. My boyfriend (now husband) suggested I try going down a Public Relations/Media Communications path that eventually led me to Marketing. It was a perfect fit!
I am a high-energy creative who loves learning and trying new things but gets bored when work is too predictable. Plus, Marketing combines psychology and education. It is understanding the psychology of your customer and using good communication skills to educate them about your product or service.
Why did you want to join The Olinger Group (TOG)?
I love understanding why people make the decisions they do. Market research feeds that side of me.
But honestly, I couldn't be a researcher. If I tried to stay in the data all day, I would get burned out and bored after a while. I need to mix things up and be creative. (That could be the ADHD side of me.) Marketing is that beautiful little middle piece of creativity and data.
Plus, I love the "Living Well" focus. There are people out there who can market anything, but I am not in that group. If I am going to market well, I need to believe in the brand message.
Why does "Living Well" resonate with you?
I have always been passionate about living well. And with COVID and a recent health diagnosis, it became even more important to me. Life is precious, and I want to live the best life I can.
The really cool thing about "Living Well" is that it is different for everyone. Kim Kardashian (an American socialite and reality star) and Alex Honnold (a celebrated American rock climber who lived in his van for years) have very different ideas of what living well means. Neither one is wrong.
That is what makes this such a cool concept for us as a Market Research firm. We get to work with different kinds of companies who want to help their consumers live their authentic lives to the fullest.
How do you support the "Living Well" message?
I am going to propel our story and include the "Living Well" message in all our communication pieces.
We have amazing content on our website, including in-depth articles about market research in general and The Olinger Group in particular. And, of course, there is our blog, which we intentionally keep very human. We are nerdy and cool and, above all, human. We want you to know that.
I want to extend that data/human combo to all our touchpoints, including LinkedIn, email marketing, and conference collaterals. I don't want anyone to feel like a number when they work with us. I want personal touches in every step of the process.
And I want every step to be simple and intuitive. If I do my job right, the process for you, our client, will be seamless. Flawless. Personal.
OK, tell us something personal about you.
I am a Disney nerd! I got annual passes to Disneyland while I was in college with some of my friends, and that was our go-to, get-away-from-everyday-life, magical, happy place.
I also love Disney on a professional level. They have been amazingly successful and consistent at combining business and creativity. For example, the trash cans in Tomorrowland look different than the trash cans in Fantasyland. They also painted a very detailed Rapunzel on the front of a cruise ship, even though no one can really see it or reach it.
Disney's expectation is always top tier, even for things guests don't see every day. Their commitment to the brand is visible through their business success.
I am so inspired! I want to bring that level of consistency to TOG. I want to implement our brand in everything we touch. I know that level of detail and commitment really makes an impact.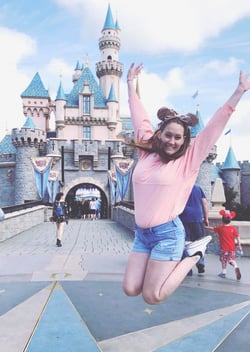 Please join us in welcoming Morgan to the team.
If you liked this or any other blog we've written, feel free to comment below and don't forget to subscribe to our blog so you'll be notified each time we post.