The Olinger Group (TOG) executives Jude Olinger and Chanttel Allen riffed off each other in a fast-paced conversation about how the company's change in direction in 2022 impacts everyone it touches.
TOG pivoted earlier this year from a generalist market research firm to one that specializes in market research that helps people live well and improve their lives, particularly in our three focus verticals:
Jude, TOG's Founder and CEO, explained the "why" behind the pivot in a previous post. Today, he and Chanttel, our Managing Director, discussed the impacts.
Jude:
Speaking for myself, and I think for Chanttel, too, specializing in this area of living well renewed our energy and our enthusiasm about the business, and it's contagious. Our team was quick to rally around this change because it gave us a lot more clarity about what we are trying to accomplish, what our mission is, and what direction we are headed in.
Chanttel:
We felt like a start-up again. We had all this energy that came with switching gears. We created new content and hired new talent and changed the ways we did things.

I've been with Jude and TOG for 22 years. My joke has always been, "The day this gets boring, I am out of here." The changes we embraced in 2022 personally gave me a renewed vigor for the business. I enjoy the new challenges and, quite frankly, we are working in the verticals that I most enjoy. So, it doesn't feel as hard. It feels natural.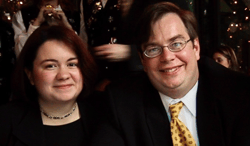 (Chanttel and Jude in December 2000, shortly after Chanttel joined TOG.)
Jude:
It's a lot more fun.
Chanttel:
I mean, who doesn't want to talk about living well? Most people's daily conversation is how they are striving to live well. So doing insights around living well adds more purpose to what we are doing. And that drives me. Purpose drives me.
Jude:
I agree. Everyone is striving to improve their lives on a daily basis. Healthcare & Wellness is foundational to that, and Luxury Travel and Luxury Brands elevate it.

I see an abundance of opportunity in the Living Well space because people totally get it. You don't have to give people a lot of explanation about that. It's liberating to me because, in the past, it was hard to explain to clients what we do as a company.

Now, I tell people that we help brands help others live well. We do that by specializing in the Living Well space and helping companies make informed, strategic decisions that will positively affect their customers. They get it immediately. It just clicks.

That makes it easier for clients to know they want to work with us, and it makes it easier for us serve our clients. We have a shared focus on improving people's lives.
Chanttel:
It also makes it easier for us to attract top-notch talent.
Jude:
True. We now have the best team we have ever had, from the people doing the research to the sales team that is generating work for us to the marketing assets we have brought on board.

We are a changed company. We have transformed the business.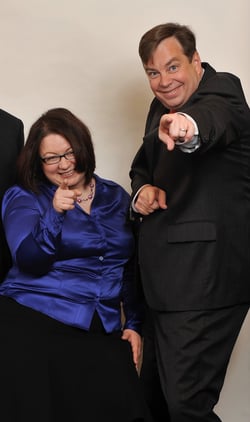 (Chanttel and Jude celebrated the completion of a large project in January 2010.)
Chanttel:
People say, 'adversity breeds opportunity.' It is kind of a romantic thing to think, 'Oh wow, if I have all this adversity, then something good is going to come out of it.'
Well let me tell you, pivoting an entire company is not as romantic as it sounds. It was quite a big deal with a lot of unknowns and a lot of risks.

We are now on the right side of it, though. We can see that this is a good fit for us. We are attracting clients and exciting opportunities, and our employees are really rallying around our new focus.

I wouldn't necessarily want to go through that journey again, but it was validating!
Jude:
We are still on the journey. I am optimistic about 2023 because we have laid the groundwork and the foundation. We are very jazzed about the future going forward.
If you work for a company that is helping improve lives, especially if it fits into one of our three verticals, come join us on the journey. This is one ride you do not want to miss!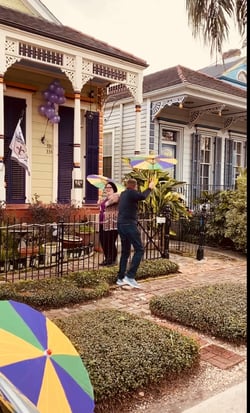 (Jude promised Chanttel a big party for her 20-year workiversary, but the date fell in the middle of COVID. So, in December 2020, they celebrated with a parade and socially-distanced dancing on Chanttel's block.)
Feel free to comment below and don't forget to subscribe to our blog so you'll be notified each time we post.